Burkini Surf
Guest Segment on "KateChung," KChung Radio, 1630 AM, Los Angeles, July 27, 2013, 5-5:30pm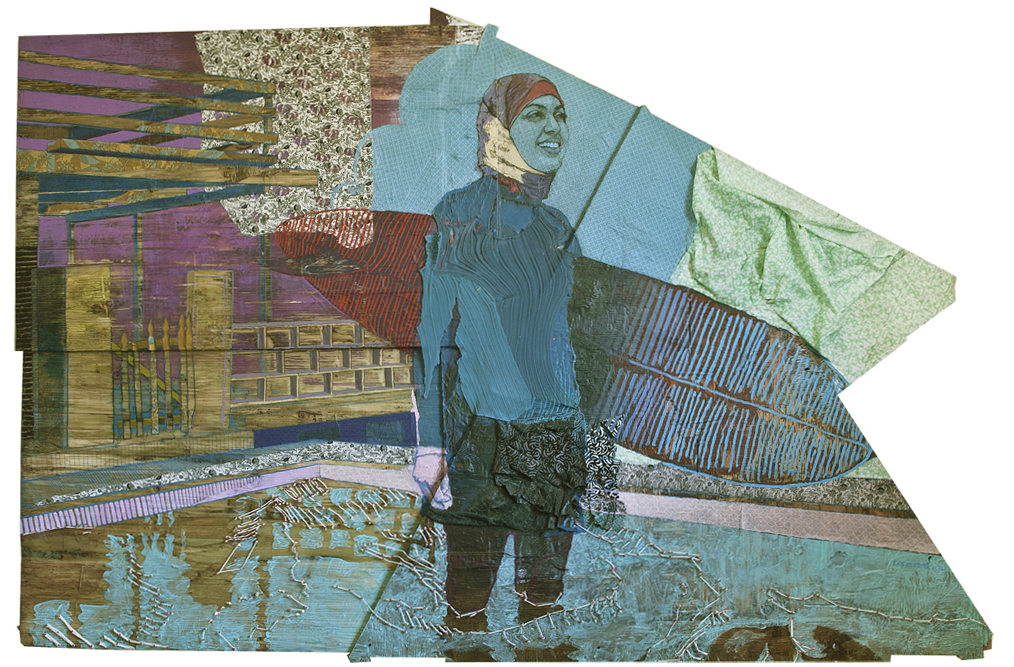 Early Afternoon at Canal Street, 48 x 65 in, recycled beach pier wood, fabric, and other mixed media, 2012
One day I fell into conversation with an exchange student while in a campus restroom. Learning I was an MFA candidate, she said that she had always wanted her portrait drawn and later sent me selfies to use as reference photos. We swapped Arabic lessons for homework proof reading and ate lots of good food together.
I composed the concept for the Burkini Surf Project after later reading of a fellow surfer girl my age who grew up near where I did. It was a decade after 9/11, and the bigotry and assumptions about victimization I was still hearing from the loved ones around me did not line up with what I had been taught about Islam and the Middle East in undergraduate school.
I contacted the surfer and she linked me with a skater chic our age, who lived near me, and before I knew it, I had met a number of women in the Muslim community who were thrilled to swap surf lessons for portrait sitting and input into how they desired to be portrayed.
Microsoft purchased one of the large assemblage portraits in the subsequent series. I gifted a small study to a professor of American Government I worked under, and gifted a small laser-cut skateboard-portrait to the sitter who had told me for years that she really wanted it. She later purchased it. I turned down purchase requests that seemed to come from those who saw the work as simply an investment and misunderstood my project as providing agency to American Muslim women who needed to be saved. I donated the rest of the work to a Yalla, a non-profit that was started by a Muslim American my age. Yalla provides tutoring and organized soccer to immigrants and refugees in the San Diego area.